THE EFFECTIVENESS OF USING WHATSAPP MESSENGER IN TEACHING WRITING OF HORTATORY EXPOSITION TEXT AT THE ELEVENTH GRADE OF MAN 3 KEDIRI
Abstract
WhatsApp Messenger group – as teaching media, is used to hold online discussion for the students before implementing further discussion and writing activity in the classroom. This study aims to find out whether or not WhatsApp Messenger is effective to be used in teaching writing of hortatory exposition text at the eleventh grade of MAN 3 Kediri. This experimental research uses post-test only control group design. Two classes are used as research subjects, they are; experimental group (N = 35) and control group (N = 34). Experimental group is taught by having online discussion within WhatsApp Messenger, whereas control group is taught by using conventional discussion method. Writing test is used to collect the data. The result shows that the mean of experimental group is higher than the control one (83.91 > 80.44) while the analysis of independent-samples t-test reveals that the experimental group outperforms the control group in writing achievement (P = 0.002). Furthermore, the value of tobserved is higher than ttable (3.309 > 2). Therefore, there is significant difference between both groups. Thus, it can be concluded that WhatsApp Messenger is effective to be used in teaching writing especially in hortatory exposition text.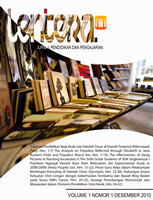 How to Cite
KAFIDAH, risca nur. THE EFFECTIVENESS OF USING WHATSAPP MESSENGER IN TEACHING WRITING OF HORTATORY EXPOSITION TEXT AT THE ELEVENTH GRADE OF MAN 3 KEDIRI.
LENTERA : Jurnal Pendidikan dan Pengajaran
, [S.l.], v. 8, n. 1, p. 78-86, nov. 2018. ISSN 2086-6860. Available at: <
https://ejournal.uniska-kediri.ac.id/index.php/Lentera/article/view/330
>. Date accessed: 15 oct. 2019.