IMPROVING STUDENTS' WRITING ACHIEVEMENT IN ANALYTICAL EXPOSITION TEXT BY USING CLUSTERING TECHNIQUE AT ELEVEN GRADE OF MAN KRECEK
Abstract
The eleven science two students of MAN Krecek still face several problems in their writing such as vocabulary because the students lazy to find the difficult word and afraid to ask to the teacher, difficulty in creating ideas, no motivation to write, so it influence the students lack of confidence in grammar. In the other hand, teacher difficult to handle the crowd students because the students do not pay attention to the teacher. Teacher can not handle the class well. So, from all of the problems the students get low score in English writing. The purpose of the study is teacher can improve the strategy and quality of students' writing achievement in analytical exposition text in the class. In order to the students can get the lesson clearly and completelty. This research was a classroom action research (CAR) which the researcher was assisted by a collaborator in conducting the research. The researcher used Clustering technique as the methode. Clustering technique is making visual map or new assosiation that allows thinking more creatively and begin without clear idea. Clustering can be useful for any kind of writing. The result of this research shows that Clustering technique can improve students' writing achievement is by doing an essay test. Students have to write the simple analytical text by using the technique. There is an improvement of students  that be able to pass the standard score (≥75) from 50% in preliminary test into 53% of students test in cycle 1 and finally became 85% in cycle 2. In addition, the factors that influence the improvement of students' achievement in writing were teacher's factor (classroom management and teacher's explanation) and student's factor (students' attention, participation and interest).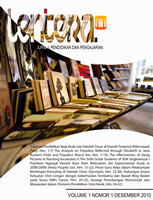 How to Cite
PUSPITASARI, ratih. IMPROVING STUDENTS' WRITING ACHIEVEMENT IN ANALYTICAL EXPOSITION TEXT BY USING CLUSTERING TECHNIQUE AT ELEVEN GRADE OF MAN KRECEK.
LENTERA : Jurnal Pendidikan dan Pengajaran
, [S.l.], v. 8, n. 1, p. 14-22, nov. 2018. ISSN 2086-6860. Available at: <
https://ejournal.uniska-kediri.ac.id/index.php/Lentera/article/view/321
>. Date accessed: 18 sep. 2019.