IMPROVING THE STUDENTS' WRITING ACHIEVEMENT OF NARRATIVE TEXT BY USING PICTURE SERIES AT TENTH GRADE STUDENTS OF MAN 3 KEDIRI IN ACADEMIC YEAR 2016/2017
Abstract
This study focused on improving students' writing achievement. Some problems relate to students' writing achievement whether picture series can improve students' achievement of the Tenth Grade students of MAN 3 Kediri. This study used qualitative design while Classroom Action Research (CAR) as the approach. This study was conducted in the tenth grade students of MIPA 4. There were 39 students, 14 male students and 25 female students. To know the result of students' activity the researcher used observation checklist, filed note, and documentation. Meanwhile, to know the improvement of the achievement the researcher used test and observed the result of test by computing the mean and the percentage of classroom success. The result of the study showed that more than 80% students were more active and more interest in writing activity. In the cycle I the mean of students' value was 71.10 and 24.32% students could achieve the criteria of success. In the cycle II the mean was 84.13 and 83.7% students could achieve the criteria of success. It can be concluded that picture series is one of media that can improve students' achievement in writing.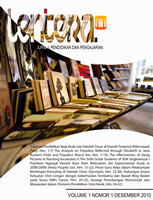 How to Cite
ZULAIKAH, binti. IMPROVING THE STUDENTS' WRITING ACHIEVEMENT OF NARRATIVE TEXT BY USING PICTURE SERIES AT TENTH GRADE STUDENTS OF MAN 3 KEDIRI IN ACADEMIC YEAR 2016/2017.
LENTERA : Jurnal Pendidikan dan Pengajaran
, [S.l.], v. 8, n. 1, p. 1-6, nov. 2018. ISSN 2086-6860. Available at: <
https://ejournal.uniska-kediri.ac.id/index.php/Lentera/article/view/319
>. Date accessed: 15 oct. 2019.