An Analysis of The Scaffolding Process to Teach English for Young Learners in Elementary School
Achmad Nur Ilmi

Universitas Mercu Buana Yogyakarta

Valentina Dyah Arum Sari

University of Mercu Buana Yogyakarta
Abstract
The fact that English served as the local content had given another challenge to the Elementary school students in learning English as a Foreign Language. Although, now, curriculum is in the transition into a freedom of learning Independent which English starts to be included as the subject to learn in first and fourth graders, students are still struggling in following the teaching and learning process of the subject. The right techniques must be selected and applied to help students achieve the learning goals. One promising technique to teach EYL is scaffolding. This study aimed (1) to reveal the Scaffolding process in teaching English and (2) to find out benefits of the scaffolding process in teaching English for Young Learners in one state Elementary School in Padangan, East Java. The participants were the English teacher and 15 students from fourth grade. This study applied mixed-method research. The instruments to obtain the data were observation, questionnaire, and interview. The research findings that the scaffolding process existed in the teaching and learning process of English in the elementary school. Several scaffolding strategies were applied in the teaching process of English subjects. The students' responses towards the scaffolding reached a medium qualification which was 67%. Besides, the students' responses on the benefits of scaffolding showed medium qualification which was 66%. Furthermore, it could be concluded that the scaffolding process were well implemented in the process of teaching English in Elementary school. Also, the existence has given positive responses to the students in learning English.
References
Aini, N. R., Islam, U., Raden, N., & Lampung, I. (2020). Makalah Desain Penelitian Mixed Method ( Metodologi Penelitian) ( Makalah ) Disusun Oleh : Anadia Rosaria Dini Andriani Ema Juwita Fatoni Latif Mida Ayu Restanti Muizzudin Rifki Alhanif Nur Rohmatu (Issue December). https://doi.org/10.13140/RG.2.2.12586.03524

Alamri, W. A. (2019). Effectiveness of Qualitative Research Methods: Interviews and Diaries. International Journal of English and Cultural Studies, 2(1), 65. https://doi.org/10.11114/ijecs.v2i1.4302

Anggadewi, B. E. T. (2017). Scaffolding: How it works for students with learning difficulties. The 2017 International Conference on Research in Education, 210–218. https://usd.ac.id/seminar/icre/wp-content/uploads/2018/07/ICRE-2017-Proceedings.pdf

Arlinda, H. (2020). Teachers' Strategies in Providing Scaffolding in English for Young Learners Classroom. 430(Conaplin 2019), 84–88. https://doi.org/10.2991/assehr.k.200406.017

Bikmaz, F. H., Çelebi, Ö., Ata, A., Özer, E., Soyak, Ö., & Reçber, H. (2010). Scaffolding Strategies Applied by Student Teachers to Teach Mathematics. Educational Research Association The International Journal of Research in Teacher Education The International Journal of Research in Teacher Education, 1(1), 25–36.

Charlotte. (2018). Pembelajaran Bahasa Inggris Bagi Anak Usia Dini Versus Budaya Lokal. Cakrawala Dini: JBy Conducting This Research, It Is Expected to Be Able to Find out Whether the Application of Scaffolding Has Been Implemented in the Classroom Properly and Correctly or Has Not Been Applied in the Classroom and There Is Also a Research O, 5(2), 63–72. https://doi.org/10.17509/cd.v5i2.10499

Entusiastik. (2019). How Scaffolding Concept Is Realised Through the Use of Feedback: a Sociocultural Perspective. Edulink : Education and Linguistics Knowledge Journal, 1(1), 15. https://doi.org/10.32503/edulink.v1i1.451

Evalkink, J. (2021). Observation method. Mentalizing in Child Therapy, May, 100–113. https://doi.org/10.4324/9781003167242-6

Fatonah, E. (2019). Scaffolding used by the teacher in teaching English at Junior High School 2 Bobotsari. http://lib.unnes.ac.id/33346/1/2201415037.pdf

Hasan, M., & Rezaul Karim, M. (2019). Scaffolding Effects on Writing Acquisition Skills in EFL Context. Arab World English Journal, 10(4), 288–298.

Hsin, C. T., & Wu, H. K. (2011). Using Scaffolding Strategies to Promote Young Children's Scientific Understandings of Floating and Sinking. Journal of Science Education and Technology, 20(5), 656–666. https://doi.org/10.1007/s10956-011-9310-7

Kamil, R. (2018). Exploring Teacher'S Scaffolding To the Students in Teaching Writing. Journal of English and Education, 5(2), 187–193.

Khairani, A. I. (2019). Pendidikan Bahasa. Jurnal Bastra (Bahasa Dan Sastra), 1(01). https://doi.org/10.36709/jb.v1i01.7599

Kirom, A. (2017). Peran Guru Dan Peserta Didik Dalam Proses Pembelajaran. Al Murabbi, 3(1), 69–80. http://jurnal.yudharta.ac.id/v2/index.php/pai/article/view/893

Mehri, E., Amerian, M., Amerian, M., Mehri, E., Tefl, M. A. I., & Tefl, ; M A In. (2014). Scaffolding in sociocultural theory: Definition, steps, features, conditions, tools, and effective considerations. Researchgate.Net, 3(7), 756–765.

Samana, W. (2013). Teacher's and Students' Scaffolding in an EFL Classroom. Academic Journal of Interdisciplinary Studies, 2(8), 338–343. https://doi.org/10.5901/ajis.2013.v2n8p338
Sari, D. K., & Rozimela, Y. (2021). The Implementation of Scaffolding Strategies at Speaking English Course in Kampung Inggris Pare East Java . Proceedings of the Ninth International Conference on Language and Arts (ICLA 2020), 539(Icla 2020), 51–56. https://doi.org/10.2991/assehr.k.210325.010

Sepyanda, M. (2017). The importance of english subjcet in elementary school curriculum. English Language Teaching and Practice, I(1), 207.

Surkamp, C., & Viebrock, B. (2018). Teaching english as a foreign language: An introduction. Teaching English as a Foreign Language: An Introduction, 1–295.

Vonna, Y., Mukminatien, N., & Laksmi, E. D. (2015). Artikel diterima 08/07/2015; disetujui 23/08. Jurnal Pendidikan Humaniora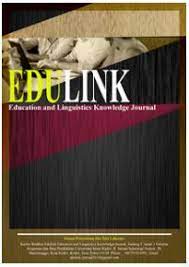 This work is licensed under a Creative Commons Attribution 4.0 International License.
This work is licensed under a Creative Commons Attribution License