Pengaruh Evaluasi Kinerja, Kompensasi Kinerja, Beban Kerja Terhadap Kinerja Pegawai Dengan Motivasi Sebagai Variabel Intervening Pada KPP Pratama Pare
Aswahyuddin H

Magister Manajemen, Universitas Islam Kadiri

Arisyahidin Arisyahidin

Magister Manajemen, Universitas Islam Kadiri

Sriwahyuni Mega Hastuti

Magister Manajemen, Universitas Islam Kadiri
Abstract
This research aims to analyze the influence of work evaluation on motivation., the influence of work compensation on performance motivation, the influence of workload on performance motivation, analyzing the influence of motivation on performance. The influence of work evaluation, work compensation and workload through work motivation influences the performance of KPP Pratama Pare employees. This type of research is quantitative, with the results of the analysis showing that the performance evaluation variable has a significant effect on the work motivation of the Pratama Pare Tax Office employees. This can be interpreted as if the performance evaluation is good, then the performance of the Pare Pratama Tax Office employees will increase. The research sample used in the research was 50 employees of the Pratama Pare Tax Office using path analysis.
References
Adityawarman, Y., Sanim, B., & Sinaga, B. M. (2015). Pengaruh Beban Kerja terhadap Kinerja Karyawan PT. Bank Rakyat Indonesia (persero) Tbk Cabang Krekot. Jurnal Manajemen Dan Organisasi, 6(1), 34–44.
Andriani, A. D., Mulyana, A., Widarnandana, I. G. D., Armunanto, A., Sumiati, I., Susanti, L., Siwiyanti, L., Nurlaila, Q., Pangestuti, D. D., & Dewi, I. C. (2022). Manajemen sumber daya manusia (Vol. 1). TOHAR MEDIA.
Budiasa, I. K. (2021). Beban Kerja dan Kinerja Sumber Daya Manusia. CV. Pena Persada.
Diningsih, I. P. (2021). Pengaruh Program Keselamatan Dan Kesehatan Kerja, Beban Kerja Terhadap Kinerja Karyawan Yang Dimediasi Oleh Stress Kerja Pada Mitra Pengguna Jasa Layanan Balai Keselamatan Dan Kesehatan Kerja Medan.
Hakman, H., Suhadi, S., & Yuniar, N. (2021). Pengaruh Beban Kerja, Stres Kerja, Motivasi Kerja Terhadap Kinerja Perawat Pasien Covid-19. Nursing Care and Health Technology Journal (NCHAT), 1(2), 47–54.
Kasenda, R. (2013). Kompensasi dan motivasi pengaruhnya terhadap kinerja karyawan pada PT. Bangun Wenang Beverages Company Manado. Jurnal EMBA: Jurnal Riset Ekonomi, Manajemen, Bisnis Dan Akuntansi, 1(3).
Mahawati, E., Yuniwati, I., Ferinia, R., Rahayu, P. P., Fani, T., Sari, A. P., Setijaningsih, R. A., Fitriyatinur, Q., Sesilia, A. P., & Mayasari, I. (2021). Analisis Beban Kerja dan produktivitas kerja. Yayasan Kita Menulis.
Mangkunegara, A. A., Manusia, M. S. D., Sutrisno, E., Manusia, M. S. D., Empat, S., Pers, R., & Thoha, M. (2013). Buku. Journal of Agricultural Research, 8(48), 6126–6130.
Murty, W. A. (2012). Pengaruh kompensasi, motivasi dan komitmen organisasional terhadap kinerja karyawan bagian akuntansi (studi kasus
pada perusahaan manufaktur di Surabaya). STIE Perbanas Surabaya.
Noverina, N., Susbiyani, A., & Sanosra, A. (2020). Pengaruh Beban Kerja Dan Budaya Kerja Terhadap Disiplin Kerja Dan Kinerja Pegawai. Jurnal Sains Manajemen Dan Bisnis Indonesia, 10(2), 177–186.
Silaen, N. R., Syamsuriansyah, S., Chairunnisah, R., Sari, M. R., Mahriani, E., Tanjung, R., Triwardhani, D., Haerany, A., Masyruroh, A., & Satriawan, D.
G. (2021). Kinerja Karyawan.
Umar, H. (2002). Evaluasi kinerja perusahaan. Gramedia Pustaka Utama.
Yulandri, Y., & Onsardi, O. (2020). Pengaruh Kompensasi dan Disiplin Kerja terhadap Kinerja Karyawan. BUDGETING: Journal of Business, Management and Accounting, 1(2), 203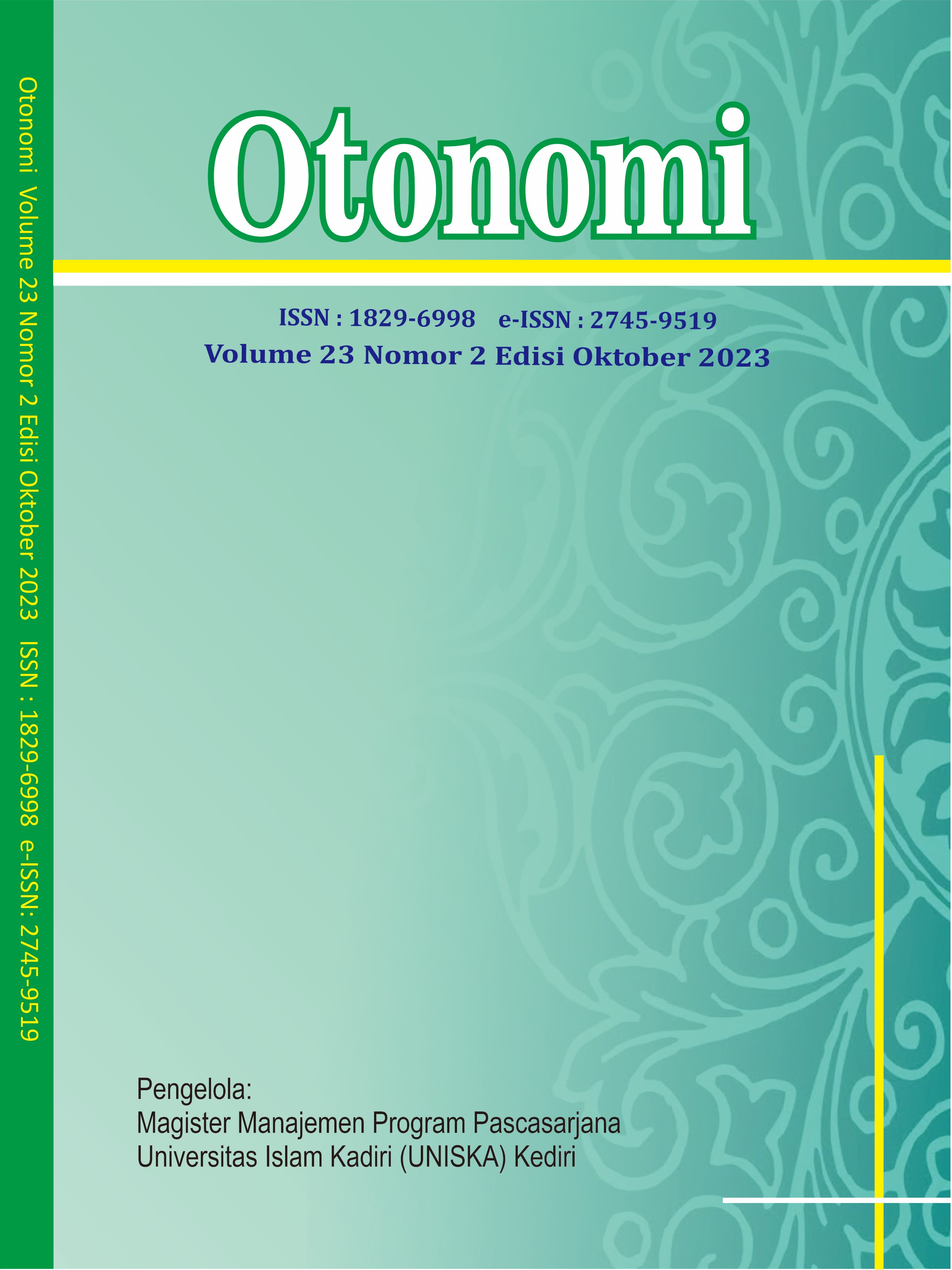 How to Cite
H, Aswahyuddin; ARISYAHIDIN, Arisyahidin; HASTUTI, Sriwahyuni Mega. Pengaruh Evaluasi Kinerja, Kompensasi Kinerja, Beban Kerja Terhadap Kinerja Pegawai Dengan Motivasi Sebagai Variabel Intervening Pada KPP Pratama Pare.
Otonomi
, [S.l.], v. 23, n. 2, p. 361-368, nov. 2023. ISSN 2657-1684. Available at: <
https://ejournal.uniska-kediri.ac.id/index.php/otonomi/article/view/4447
>. Date accessed: 29 nov. 2023. doi:
https://doi.org/10.32503/otonomi.v23i2.4447
.
This work is licensed under a Creative Commons Attribution 4.0 International License.
http://creativecommons.org/licenses/by/4.0