Pengaruh Komitmen Organisasional Dan Kecerdasan Emosional Terhadap Kinerja Pegawai Melalui Organizational Citizenship Behaviour Pada Pegawai KPP Pratama Kediri
Antonius Atet Wiyono

Magister Manajemen, Universitas Islam Kadiri

Nisa Mutiara

Magister Manajemen, Universitas Islam Kadiri
Abstract
This study aims to determine the influence of emotional intelligence and organizational commitment on the employee performance fashion department in Kantor Pelayanan Pajak Pratama Kediri with organizational citizenship behavior (OCB) as intervening. The population in this study were all employees working at Kantor Pelayanan Pajak Pratama Kediri and the sample used was 52 respondents. The sampling technique uses probality sampling with a simple random sampling method. The research model was tested by using the path analysis. The results of this study showed that emotional intelligence and organizational commitment had a positive effect on Organizational Citizenship Behavior (OCB). Emotional intelligence, organizational commitment, and Organizational Citizenship Behavior (OCB) had a positive effect on employee performance. Emotional intelligence and organizational commitment had an indirect effect on employee performance through Organizational Citizenship Behavior (OCB). When analyzed further, the percentage of direct effect was higher than the indirect effect, which showed that the mediating variable of Organizational Citizenship Behavior (OCB) had less effect on employee performance
References
Azis, A., & Sutia Budi, S. E. (2021). Pengaruh Kecerdasan Emosional, Komitmen Organisasional dan Organizational Citizenship Behavior Terhadap Kinerja Pegawai Pada Pemerintah Kecamatan Pamulang. ITB Ahmad Dahlan Jakarta.
Bogler, R., & Somech, A. (2019). Psychological capital, team resources and organizational citizenship behavior. The Journal of Psychology, 153(8), 784–802.
Camp, K. M., Young, M., & Bushardt, S. C. (2022). A millennial manager skills model for the new remote work environment. Management Research Review, 45(5), 635–648.
Gani, N. (2014). Pengaruh kecerdasan emosional, kepuasan kerja, dan komitmen organisasi terhadap kinerja karyawan pada koperasi karyawan PT. Telkom Siporennu Makassar. Jurnal Manajemen Dan Akuntansi, 3(3).
Goleman, D. (2000). Kecerdasan emosional. Gramedia Pustaka Utama.
Greenberg, J., & Colquitt, J. A. (2013). Handbook of organizational justice. Psychology Press.
Hidayati, I. N., & Setiawan, M. (2013). Kecerdasan Emosional dan Kecerdasan Spiritual Pengaruhnya terhadap Kepuasan Kerja dan Kinerja Karyawan (Studi di Lembaga Penjaminan Mutu Pendidikan (LPMP) Nusa Tenggara Barat). Jurnal Aplikasi Manajemen, 11(4), 629–639.
Khoirunnisa, S. F. (2021). Pengaruh kepribadian, komitmen organisasi dan Perceived Organizational Support (POS) terhadap Organizational Citizenship Behavior (OCB) pada Kantor Bea dan Cukai Malang. Universitas Islam Negeri Maulana Malik Ibrahim.
Maarif, M. S., & Kartika, L. (2021). Manajemen kinerja sumber daya manusia. PT Penerbit IPB Press.
Mangkunegara, A. A., Manusia, M. S. D., Sutrisno, E., Manusia, M. S. D., Empat, S., Pers, R., & Thoha, M. (2013). Buku. Journal of Agricultural Research, 8(48), 6126–6130.
Mon, M. D., & Jennifer, J. (2022). Analisis Pengaruh Kecerdasan Emosional, Motivasi dan Keadilan Organisasi terhadap Kinerja Karyawan dengan Organizational Citizenship sebagai Variabel Mediasi. Jurnal Mirai Management, 7(1), 113–126.
Muizu, W. O. Z., Prasetyo, A. R., & Yunizar, Y. (n.d.). PENGARUH KOMITMEN ORGANISASIONAL TERHADAP KEPUASAN KERJA PERAWAT: PERAN KECERDASAN EMOSIONAL SEBAGAI MEDIATOR. PEKBIS, 11(3), 170–178.
Organ, D. W., Podsakoff, P. M., & MacKenzie, S. B. (2005). Organizational citizenship behavior: Its nature, antecedents, and consequences. Sage Publications.
Podsakoff, P. M., MacKenzie, S. B., & Podsakoff, N. P. (2018). The Oxford handbook of organizational citizenship behavior. Oxford University Press.
PRIAMBODO, O. S., & MAS'UD, F. (2019). ANALISIS PENGARUH KECERDASAN EMOSIONAL DAN MOTIVASI TERHADAP KOMITMEN ORGANISASIONAL PEGAWAI PENGAWAS KETENAGAKERJAAN DENGAN HARGA DIRI (SELF ESTEEM) SEBAGAI VARIABEL MEDIASI (Studi pada Pegawai Pengawas Disnakertrans Provinsi Jawa Tengah). UNDIP: Fakultas Ekonomika dan Bisnis.
Purwanto, A., Purba, J. T., Bernarto, I., & Sijabat, R. (2021). Effect of transformational leadership, job satisfaction, and organizational commitments on organizational citizenship behavior. Inovbiz: Jurnal Inovasi Bisnis, 9(1), 61–69.
Putri, E. (2023). Lima Kunci Kecerdasan Emosional. Jurnal Pendidikan Transformatif, 2(1), 45–49.
Tremblay, M., & Simard, G. (2018). A multifoci approach to study social support and job performance: A target similarity consideration of development-enhancing practices, leadership, and structure. Journal of Business Research, 92(5), 118–130. https://doi.org/10.1016/j.jbusres.2018.07.002
Uno, H. B., & Nina Lamatenggo, S. E. (2022). Teori kinerja dan pengukurannya. Bumi Aksara.
Wuwung, O. C. (2020). Strategi pembelajaran & kecerdasan emosional. Scopindo Media Pustaka.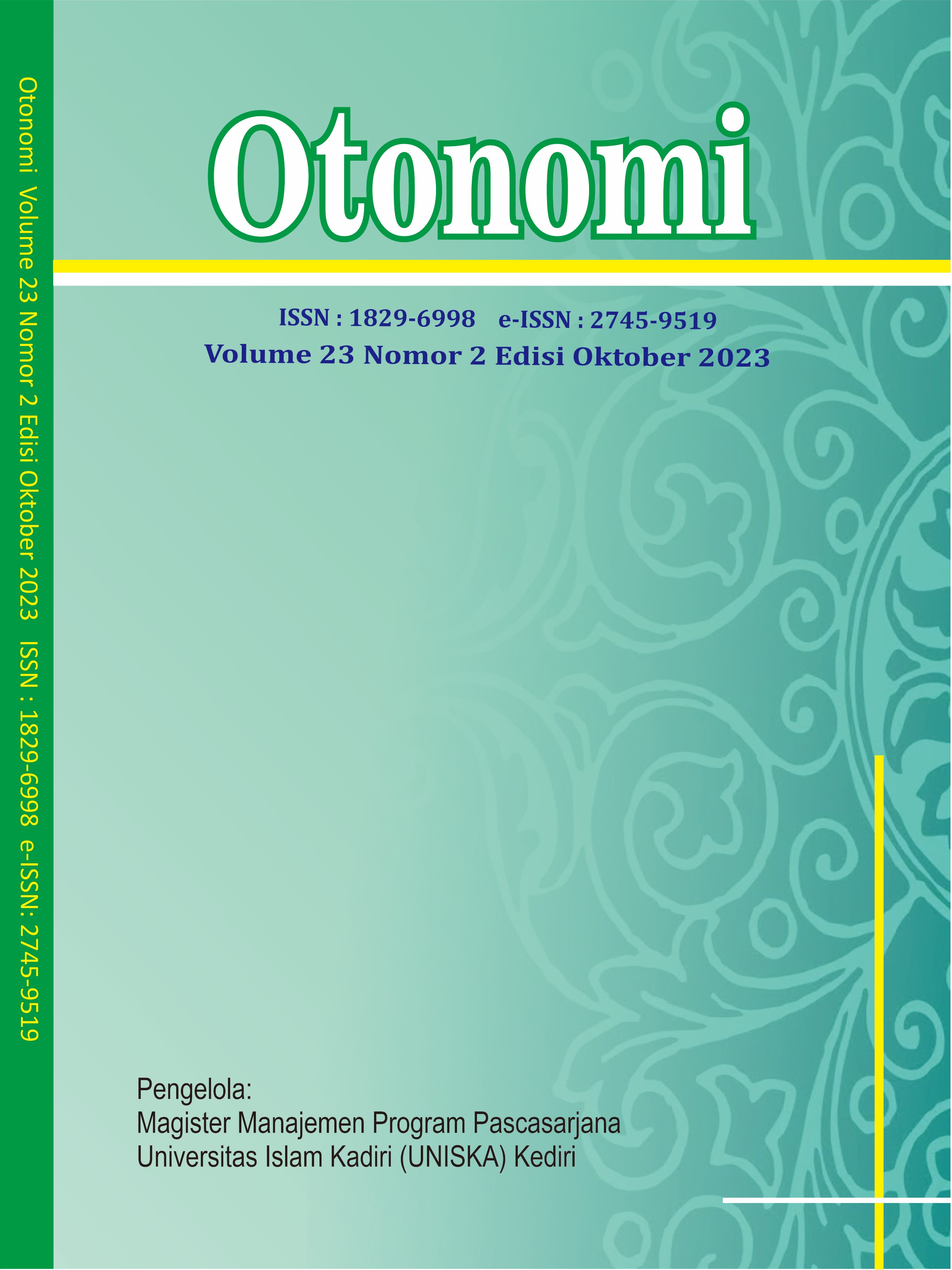 This work is licensed under a Creative Commons Attribution 4.0 International License.
http://creativecommons.org/licenses/by/4.0