Faktor Makro dan Mikro yang Mempengaruhi Penerimaan Retribusi Pelayanan Pasar di Kabupaten Kediri
Sururin Khariroh

Magister Manajemen, Universitas Islam Kadiri

Arisyahidin Arisyahidin

Magister Manajemen, Universitas Islam Kadiri

Imam Baehaki

Magister Manajemen, Universitas Islam Kadiri
Abstract
The implementation of regional autonomy encourages autonomous regions to be independent in financing their regional finances. One of the regional financial sources is PAD (Regional Origin Income) and market service levies. Market service levies is a type of income that can be increased and its potential can be explored. The aim of this research is to analyze the macro and micro factors that influence the receipt of market service fees. The independent variables from macro factors are economic growth and inflation, while the independent variables from micro factors are tariffs, quality of service level and knowledge and understanding of traders. The research method used is a quantitative analysis method. The research location was carried out at Gringging Market, Kras Market and Bendo Market with total of 98 respondents. The data collection technique used in this study is randomly distribute questionnaires to traders in the 3 markets. The results of this study indicate that economic growth, inflation, tariffs, quality of service level and knowledge and understanding of traders simultaneously influence market service retribution acceptance. However, partially, economic growth, tariffs, quality of service level and knowledge and understanding of traders have a positive effect on acceptance of market service fees, while inflation partially has no effect on acceptance of market service fees.
References
Damanik, Darwin & Panjaitan, Pawer Darasa. 2022. Pengaruh Retribusi Daerah dan Inflasi terhadap Pendapatan Asli Daerah Kota Pematangsiantar, Jurnal Kewarganegaraan. Vol 5 No 3 Oktober 2022
Mahera, Syaza N., Azhar, Zul & Triani Mike. 2018. Analisis Faktor-faktor yang Mempengaruhi Penerimaan Retribusi Pasar Kabupaten Kota Provinsi Sumatera Barat. Jurnal Ecosains. Vol. 7 No. 2, November 2018.79-88. Universitas Negeri Padang.
Prasetyo, Aris A. Siwi, Virgiana N. & Kudhani, Eranus Y. 2018. Faktor-faktor yang Mempengaruhi Pendapatan Asli Daerah Jawa Tengah Tahun 2010-2018. Jurnal Dinamika Ekonomi Rakyat. Vol.1 No.1 2018. Universitas Kristen Satya Wacana
Qatrunnada, Salsabila Nur & Putra, Sugih Sutrisno. 2022. Analisis Faktor-faktor yang Mempengaruhi Menurunnya Penerimaan Retribusi Pasar (Survey pada Unit Pasar yang dikelola oleh Perumda Pasar Juara Kota Bandung). Indonesian Accounting Research Journal. Vo. 2 No. 3 June 2022.Politeknik Negeri Bandung.
Sari, Fitria Nanda & Susilo. 2019. Analisis Faktor-faktor yang mempengaruhi Penerimaan Retribusi Pelayanan Pasar Kelas I di Kota Malang. Jurnal Ilmiah Mahasiswa FEB, Vol 7 No. 1.2019. Universitas Brawijaya.
Suparmoko, M. 2002. Ekonomi Politik untuk Keuangan dan Pembangunan Daerah : Yogyakarta
Sukirno, Sadono. 2010. Pengantar Teori Ekonomi Makro, Penerbit PT. Raja Grafindo Press, Jakarta.
Undang-undang Nomor 1 Tahun tentang 2022 Hubungan Keuangan antara Pemerintah Pusat dan Pemerintah Daerah
Undang-undang Nomor 12 Tahun 1999 tentang Pengelolaan Keuangan Daerah
Undang-undang Nomor 28 Tahun 2009 tentang Pajak Daerah dan Retribusi Daerah
Undang-undang Nomor 32 Tahun 2004 tentang Pemerintah Daerah
Walzer, Michael. Interpretation and Social Criticism. Cambridge, MA: Harvard University Press, 1987
Yusnika, Feny., Widyaningsih, Aristanti. 2019. Factors that Influence Tax Revenue and Government Expenditure in the Asia Pacific Region,Advances in Economics, Business and Management Research. Vol.65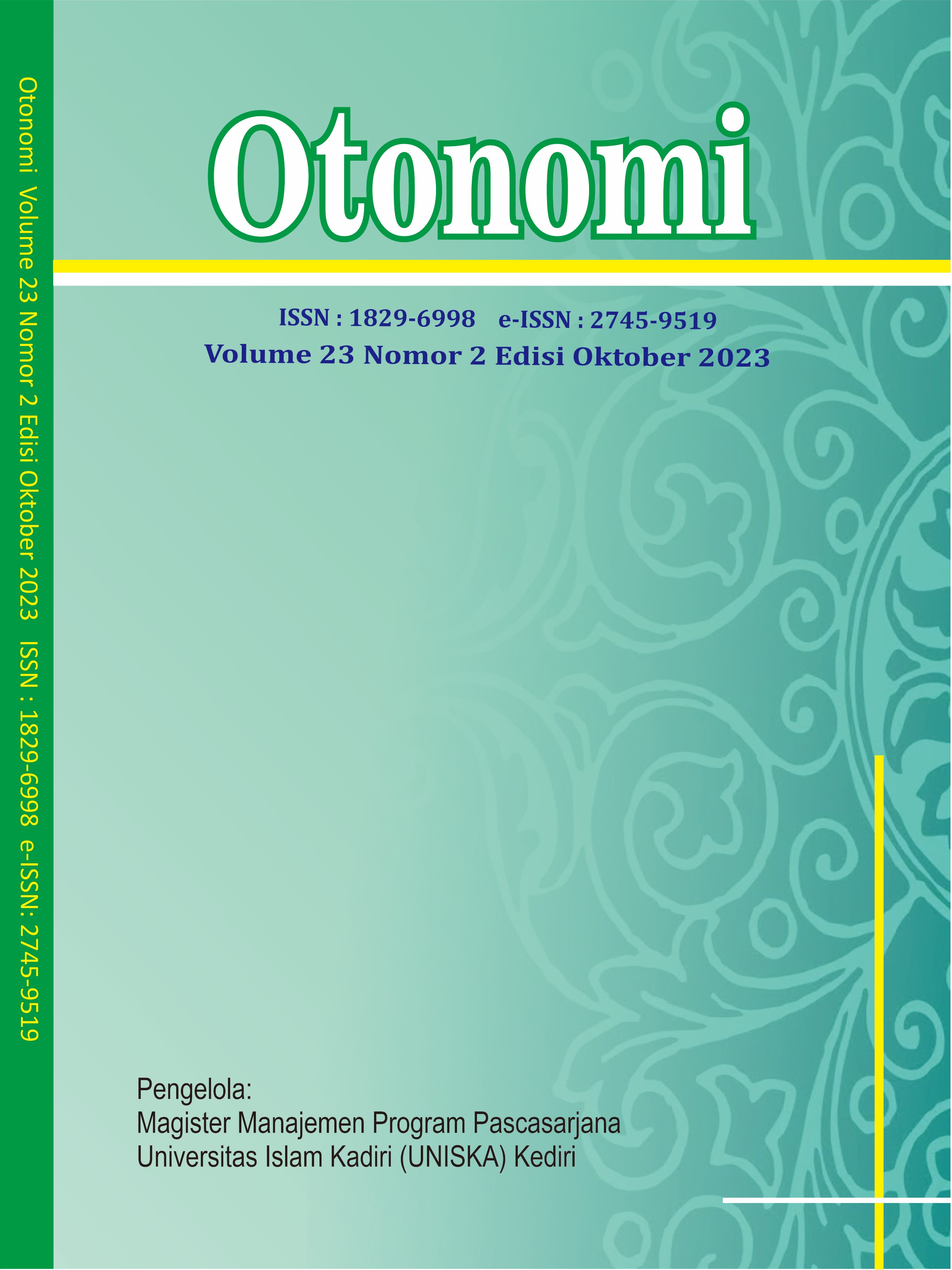 This work is licensed under a Creative Commons Attribution 4.0 International License.
http://creativecommons.org/licenses/by/4.0