KAMPUNG WISATA EKOLOGIS (KWE) PUSPA JAGAD SEBAGAI DESA WISATA (Ditinjau dari Aspek Manajemen Sumber Daya Manusia)
Arkham Maulana

Magister Manajemen, Universitas Islam Kadiri

Sumarji Sumarji

Magister Agribisnis, Universitas Islam Kadiri
Abstract
KWE Puspa Jagad is a Tourism Village in Semen Village, Gandusari District, Blitar Regency. Tourism Village is a form of integration between attractions, accommodation and supporting facilities that are presented in a community life structure that is integrated with applicable procedures and traditions. Indonesian Government has massive promote tourism now. This development reaches the lowest level, which is the village formed in the tourist village. The tourism village was formed from the utilization of the village's original potential both from economic activities, native culture and local village human resources. Empowering rural communities through tourism s a labor-intensive activity. The typical local economic and cultural activities can be presented as tourist attractions with village community guides. Tourism village HR management has supporting factors including a high level of social awareness and is easy to direct, but also has an inhibiting factor, low quality of existing human resources. As an organization at the rural level, HR management is carried out simply, following the existing HR level. Planning is limited to HR management in the tourism business development plan without increasing member. Managerial level is choiced base on the level of education and experience in the organization. Performance assessment is only based on discipline and quality of service. HR operational functions are carried out simply, following the capabilities KWE Puspa Jagad members. New members Recruitment is not held specifically, but every time native people can apply become member. HR development doing by learn from skilled organizations or other groups, attend training and autodidact. Work compensation is carried out simply by following what is common in rural areas with 3 levels: managers, trained staff and helpers. Integration is carried out by family based deliberations. Mintenance members is emphasized in providing awareness that in the KWE organization Puspa Jagad is friendship group and loving organizations able to provide added value for active members. Discipline is base on of the awareness members themselves, if undiscipline, manager will give a personal warning. Termination members of KWE Puspa Jagad isn't done, but members who never participated in the activities are considered inactive members.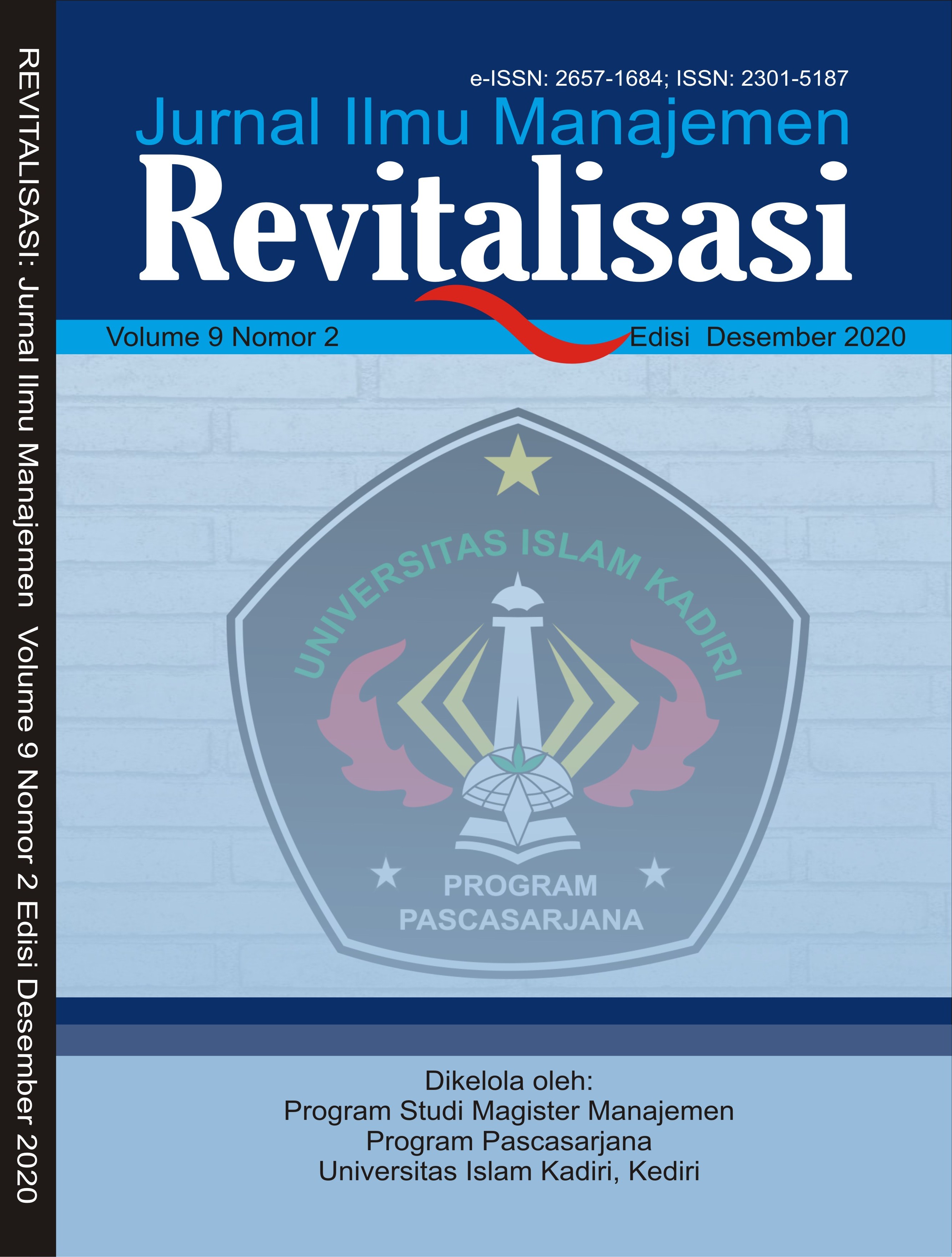 This work is licensed under a Creative Commons Attribution 4.0 International License.
Authors who publish with this journal agree to the following terms:
Authors retain copyright and grant the journal right of first publication with the work simultaneously licensed under a Creative Commons Attribution License that allows others to share the work with an acknowledgment of the work's authorship and initial publication in this journal.
Authors are able to enter into separate, additional contractual arrangements for the non-exclusive distribution of the journal's published version of the work (e.g., post it to an institutional repository or publish it in a book), with an acknowledgment of its initial publication in this journal.
Authors are permitted and encouraged to post their work online (e.g., in institutional repositories or on their website) prior to and during the submission process, as it can lead to productive exchanges, as well as earlier and greater citation of published work.

Penulis yang menerbitkan jurnal ini menyetujui persyaratan berikut:

Penulis memiliki hak cipta dan memberikan hak jurnal untuk publikasi pertama dengan karya yang secara simultan dilisensikan di bawah Lisensi Atribusi Creative Commons yang memungkinkan orang lain untuk berbagi karya dengan pengakuan kepengarangan karya dan publikasi awal dalam jurnal ini.

Penulis dapat membuat perjanjian kontrak tambahan yang terpisah untuk distribusi non-eksklusif versi jurnal yang diterbitkan dari karya tersebut (misalnya, mempostingnya ke repositori institusional atau menerbitkannya dalam sebuah buku), dengan pengakuan atas publikasi awalnya di jurnal ini.

Penulis diizinkan dan didorong untuk memposting pekerjaan mereka secara online (mis., Dalam repositori institusional atau di situs web mereka) sebelum dan selama proses pengiriman, karena dapat menyebabkan pertukaran yang produktif, serta kutipan yang lebih awal dan lebih besar dari karya yang diterbitkan.

REVITALISASI: Jurnal Ilmu Manajemen by Magister Manajemen Program Pascasarjana Universitas Islam Kadiri, Indonesia is licensed under a https://creativecommons.org/licenses/by/4.0/.

Based on a work at https://ejournal.uniska-kediri.ac.id/index.php/Revitalisasi

Abstract viewed = 0 times pdf downloaded = 0 times